Regular price
Sale price
$175.00
Unit price
per
Sale
Sold out
Our 6-week, Witchy Wellness Program was created to help others discover natural wellness strategies they can incorporate into their everyday lives. There's more to wellness than diet. This program is designed by our very own "Witch Doctor," Christina Belcher, ND, to work in conjunction with your Primary Care and wellness team.
Navigating today's diet culture and the hundreds of lifestyle trends out there can be difficult, and really, there is no diet plan or exercise routine that fits everyone anyway! This program is set up to guide you through how to think about and create a wellness plan that is specific to YOU and your personal wellness needs. It's about incorporating that vital body component with the "mind component" of our shadow work and magical practice. As practitioners, our bodies are our "interface" with reality, our most important tool in bringing our intentions to life. That means it's important for us to know how it works and what it needs to flourish so that our body can fully support us in our endeavors.
View full details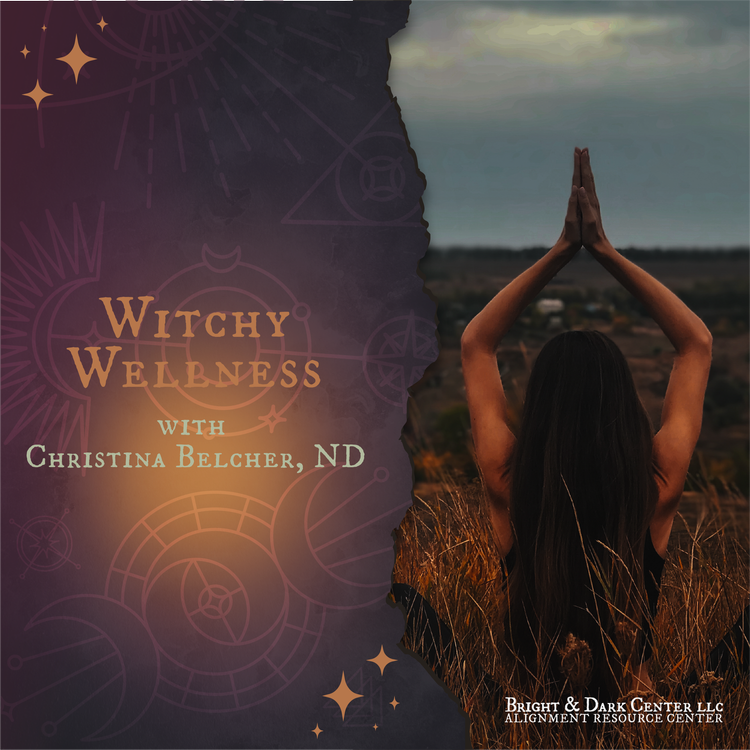 Video Schedule
1: Introduction to The Foundations and Setting Health Goals

In this class, we'll introduce the foundations for optimal health and discuss a new way to look at our bodies beyond what society may have made us believe about them. We'll also discuss health goals and what those might be for you as an individual.
2: Stress and Emotions

Building upon the intro class, we will learn about the emotional factors at play in our lives and how shadow work plays into a magical practice. We'll learn about what happens to the body under stress and how to strategize for hectic times of emotional imbalance. We'll go over several herbs that aid in addressing stress, and you'll be asked to consider the personal stresses you experience in your daily life.
3: Sleep and Relaxation

Do you struggle to catch some shuteye? We've all heard about the importance of sleep, but what do you really know about the why's? This class will break it all down. We'll learn about the rhythm of sleep and the main issues that keep us from healthy sleep. We'll go over ways to achieve better sleep and how to create a space for sleep. And of course, we'll cover all of those herbs that will help you catch some Z's.
4: Movement

This class will be a bit more interactive! We'll discuss movement in relation to YOU, the participant, as well as movement in general and what it encompasses. Sometimes you must create the option to move, but how do we do that? And what does overcoming our obstacles to movement look like? This week will get you moving and grooving.
5: Digestion and Elimination

Everybody poops, right? So, this process really shouldn't be as mystifying as it is for so many of us. In this class we'll dive into the dirty stuff – digestion, body detoxification and eliminations, pitfalls, poop, and your options. Our world can be a pretty toxic place to live in, literally. This class will teach you to be privy to that, and the steps you can take to keep your engine running despite all of that pollution.
6: All About Food

What does "organic" really mean? And is "grass fed" that important? In this class, we'll not only cover foods and diet, but also demystify the terminology that gets thrown around in this arena. We'll learn about vitamins and minerals, fibers and fats, and we'll discuss the pitfalls to maintaining the right diet for you and the various options at your disposal to outsmart them. It's all on the table in this class.